It should come as no surprise that fashion and football are our twin passions. For over forty years – since casual culture swept the teeming terraces of British football – the Golden Eagle has been at the beating heart of the game. The intertwining of football and fashion is a tradition that dates back generations, and here we trace that overlap by studying some of the biggest fashionistas in the game, and how Lyle & Scott came to be an essential part of their wardrobes, as well as those of their devoted fans and followers. From Lisbon to Lewes, here's football, fashion, and the Golden Eagle.
The best of both worlds
George Best marked a sea change in footballing culture. Before Best, footballers were humble, meat-and-potatoes, salt-of-the-earth men. The world of fashion, glamour, media and advertising was territory they rarely, if ever, ventured into.  After Best, footballers became playboys, models, superstar pin-ups and even – heaven forbid – pop stars.
Central to this was Best's passion for fashion. In his spare time away from his Manchester United duties, Best would bounce between Manchester's bustling discos and nightclubs. When he arrived in the city in the early 60s – whilst we were making our name in golf – he was sporting a Beatles-esque suit, boots, and fringe look. In fact, Portuguese media even dubbed him 'El Beatle' when visiting Lisbon for the European Cup quarter-final against Benfica, as he stepped off the plane sporting a bowl cut, thin cut suit, leather coat, sunglasses and, most importantly, a souvenir sombrero…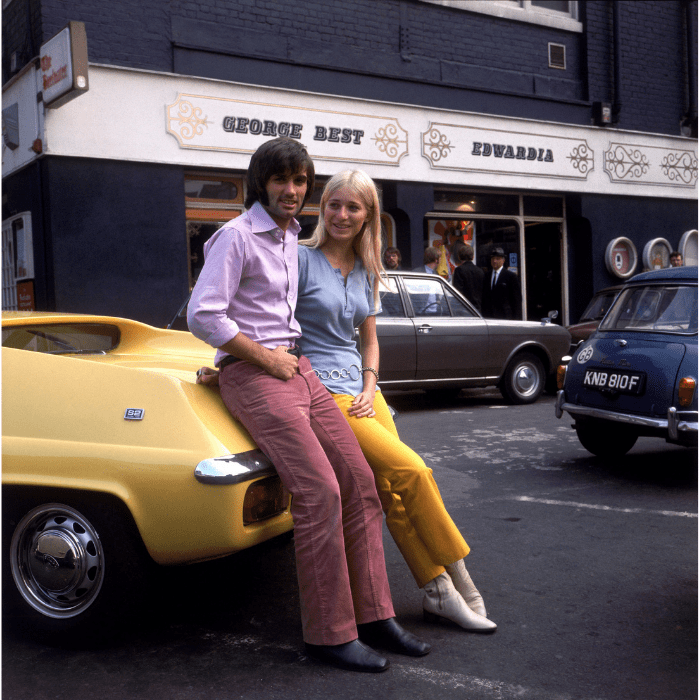 In no time at all though, Best had pivoted to a Mod style (read about our relationship with the mods here) and in 1967 set up his very own boutique, Edwardia, in central Manchester with close friend and fellow player, Man City's Mike Summerbee. As well as being "another way of pulling", the boutique provided the sports star with an outlet for his more sartorially inclined pastimes and cemented footballers as cultural and fashionable icons, as well as sporting ones.
Check out the below products if you want to get Best's game-changing mod look.